Domain Name Affiliate Program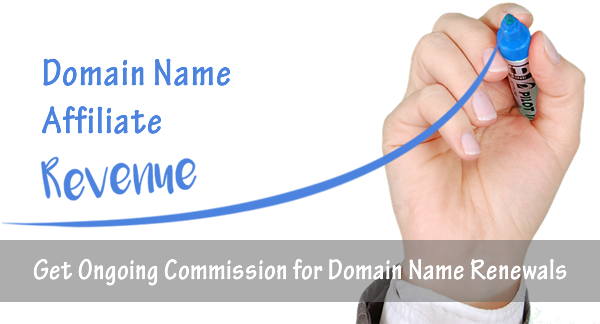 The BestDomainPlace.com affiliate program may be the ONLY one that pays commissions ongoing for the LIFE of the customer. Meaning, as long as your customer buys a domain name through your domain name affiliate program storefront, you will continue receiving annual commissions on that domain name renewal year after year!
Since a storefront is provided, along with 24/7 support for YOU as the affiliate, there is a small annual administration fee to cover those charges. In our experience, domain name affiliates need an average of just ten customers to break even on the expense. After that the rest of the commissions are dollars in your pocket!
Why is Ongoing Commissions Important?
You might make a little money by suggesting to your friends, family and clients to register their domain names at a typical domain name affiliate company. But, you will only usually get one commission payment for your referral. Ongoing commissions allow your revenue to steadily build over time.
How Long Does it Take to Make Money?
When we first began our domain name affiliate program in 2003, we were actively giving workshops to groups of 30-150 in attendance. In every workshop, we would recommend BestDomainPlace.com for domain name registration. Sure, we got commissions on sales along the way. But, where the real money started to happen was when the renewals came around the next year! We were bringing in new sales + commissions were coming in on customer domain name renewals. Every year since as been a steady increase each year in domain name commissions because of renewals.
What is the Average Customer Value?
Average customer buys 3 items; average commission percentage is 10%. Average commission payout per customer is $31 per year. So, you would only need two to five customers to justify paying the annual affiliate administration fee of $79.99.
What Domain Name Referral Options are Available?
We offer two levels of domain name affiliate programs: The Basic and Pro.
BASIC ($79.99 Per Year)
The Basic domain name affiliate level provides you with a turnkey storefront. If you click the "Search for a Domain" button on the home page at BestDomainPlace.com you will see the storefront provided. We installed a WordPress website on the front end of what the affiliate program provides so that we could further customize the look and feel.
Get Ongoing Commissions – Year after year, as long as the client continues to renew, you will get commission on renewed sales as well as initial sales for new customers.
Turnkey Storefront – No HTML knowledge needed. Simply login to your private account, upload a log image and add custom text.
Credit Card Transactions Read – No merchant account needed. You can start selling domain names, hosting, email, SSL certificates and more…in minutes!
SSL/HTTPS Ready – No need to buy a static IP address or annual SSL certificate because your account is already SSL certified.
Save Money – Enjoy up to 20% discounts on domain names and other products you can purchase through your own affiliate site!
Support Staff Provided – 24/7 Support is provided for you and your customers free of charge.
Brand Consistency – Support staff answers the phone with whatever product name, service name or company name you provide in the system.
PRO ($179.99 Per Year)
The Pro domain name affiliate program is a great option for those who have professional services providers for clients. If your clients are website designers, social networking agencies, website hosting companies, virtual assistants, SEOs, or search marketing advertising agencies, their clients will be asking them for a reputable source to register their domain names. You are providing a valuable referral source by recommending the Pro domain affiliate program to your services clients.
The biggest reason for the $179.99 annual charge over the $79.99 Basic is because the Pro version gives you BOTH turnkey storefronts; one for you to sell domain names and get commission and a second storefront to get new affiliates into the system under your account. You also get specialized support help for working with your affiliate store front.
In addition to everything in the Basic domain name affiliate program, with the Pro, you will get the following:
Get Ongoing "2nd-Tier" Commissions – You get commission for the payment your referral makes to be a part of the domain name affiliate program AND a small, 2nd tier, commission on sales made by that affiliate. The sales numbers definitely get interesting when you get 15 or 20 affiliates promoting their affiliate storefront to new customers!
Get Affiliate Recruiting Store Front – Our Turnkey storefront for registering new affiliates is BestResellerProgram.com.
Get 24/7 Support – Domain name affiliates need different support than normal domain name technicians can supply. You will have access to a special phone number to bypass normal customer support to talk to affiliate support staff when you need them.