Hosting Company Collusion and How to Protect Your Business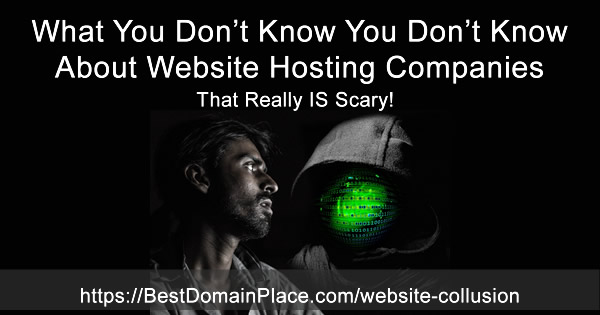 Website Hosting Collusion is Here
You used to be able to go to any 'ol big website hosting company, start a hosting account for $4 or $5 a month and it was done. The cheaper the better. FREE hosting if you could find it was what we would brag to our friends…and we would all be envious right? Times sure have changed when it comes to website hosting. And, truthfully, I'm a bit sat about it.
The fact that so many non-techie people have to learn such tiny important details about website hosting to assure their online presence will be safe when they leave for their camping trip for the weekend, is just mind boggling to me.
But, that's just how it is. And, big companies are doing some big things to GETCHYA! any way they can.
You're Not Alone
If you feel a bit confused about why…
Getting support for your website through your hosting company takes so long…
Renewal payments are always twice or three times as much as how much you paid for them originally…
Viruses and malicious code seem to attack your website more often than anyone you know…and there's always someone that suddenly appears and he's willing to charge you to fix it…
…Then, you are not alone.
A Website Monopoly is Building
The website hosting and domain name registration industry has become very confusing and complex. Every day, I read posts on Facebook where business owners are experiencing one nightmare after another related to their websites being down, or viruses that have struck again, or just plain anger over lack of good support.
Why is all of this happening more and more every year? I have a theory if you'd like to entertain reading more. I'm calling my theory Website Hosting Collusion.
Familiar Website Hosting Names
HostGator, BlueHost, domain.com, HostMonster.com, IPower.com, sound familiar? They should. They are some of the most popular website hosting provider names out there. What do they have in common?
EIG Owns Them All
Have a look at this website sometime and checkout the list that was recently updated in September 2018 of over 200 internet service provider companies and/or brands that have been bought out and absorbed by Endurance International Group (EIG). Add to the pot their partnership with SiteLock, and you've got a recipe for disaster (collusion) that should be avoided at all costs.
Our Introduction to EIG
Our introduction to EIG occurred with one of our client's websites. MANY years ago, we used to have a reseller hosting account with a very popular hosting company known as HostGator. We loved the ability to chat online with a support tech if a problem surfaced. If something really bad happened, I could call their phone number and actually talk to someone about the problem within a few minutes. Six months went by without my need for contacting support for any reason. All was good I thought.
Then, one day, one of my client's websites was not visible for some reason and my client called me in a panic to see if I could fix the problem. So, I got onto HostGator's online chat…and waited, and waited, and waited.
A full hour went by before my chat request was accepted. I was ultimately told the problem could not be handled by 1st level support and that a ticket would need to be entered.
"What? A ticket? Where did that come from?" I asked.
"Tickets are our new support protocol," the support tech told me.
HostGator was bought by the hosting conglomerate EIG and their entire support system changed.
Well, to make a long story short, since this was more than five years ago, I wound up having to drop everything and spend the next "3 days" fighting with the new-and-improved HostGator support (by phone and chat) until my client's website was live again. The next day, I signed on with a different non-EIG website hosting provider and moved all of my clients' sites there.
Sadly, nothing has changed today in 2018 as that experience so long ago with HostGator. You can search for any company absorbed by EIG and find a similar story of long support turnaround times and websites and reports of "nothing but problems" reports online by the hundreds.
Number one requirement for recommending website hosts for me is: No EIG affiliation! So, be sure to ask ANY hosting company if they are affiliated with EIG before you sign-up.
But, it gets worse.
What Does SiteLock Have to Do With Website Hosting Collusion?
SiteLock is a crafty little add-on service you can purchase with your website hosting that supposedly protects your website with its scanning and fixing services. I have had numerous clients ask me to remove SiteLock for them from their websites because they simply cannot afford SiteLock any longer. They will get a report from SiteLock that malicious code was detected and then they will ask for a payment to fix it.
Seems harmless enough, right?
Well, you cannot just "remove SiteLock" from your website. It's embedded into the hosting platform. But, that's another issue!
The thing to really watch out for with SiteLock is that after the fix is paid for, a month or two goes by and the same thing happens. Email from SiteLock comes in that there is a problem. And, a "We can fix it for you for $X."
Now, I'm no website 'developer' but I have a team of experts behind me that are. And, whenever we have manually fixed a malicious code situation on a website, it has not returned! With that site as an obvious target, we lock it down like Ft. Knox and very seldom would there ever be an issue.
Sounds fishy doesn't it that you would pay ongoing recurring money for an add-on product, pay more for a fix to a problem, and then have the same problem recur throughout the year? That's enough brain damage to crush a watermelon!
Do your own research to come to your own conclusion about SiteLock.
EIG and SiteLock Have a Partnership
Whatever your own research concludes with about either EIG and SiteLock, or both working together, know that they have a partnership together. When you buy website hosting with EIG, you are going to have promotions in your face trying to convince you to get SiteLock. Even if you do NOT sign-up for it, you will keep getting announcements from them. Suddenly, you will get a report in your email from SiteLock saying there is an infection on your website. It's only a matter of time.
There's the collusion. EIG is buying up website hosting companies that are too small to say no. And, every website that comes along for the ride falls victim eventually to SiteLock. So, you're asking, "How does website hosting collusion become a monopoly?"
The Number of Safe Small Hosting Companies is Dwindling
If you do not see your website hosting company or domain name registrar on the list of EIG owned companies through that link provided earlier, consider yourself fortunate…for now. But, you have a bigger worry that if your chosen Internet services provider is doing well, my hunch is that EIG knows about that company and already has approached that company to buy them out. Or, they are about to discover them and make an offer.
That is how monopolies grow. All you have to do is spread your buyouts over time and you can fly under the radar for many years…as long as new small website hosting companies continue to startup and get bought a few years later.
Cheap Website Hosting is Suddenly Not So Cheap
How much will it cost you to pay your developer to fix malicious code every time an infection hits your website? If SiteLock has anything to say about it, and has any involvement with somehow pushing issues to your site so they can fix it, well, you're going to be paying a lot.
With the way people have described to me having such illogical problems related to malicious code hacks and viruses, that's the only thing I can come up with.
And, now we have a marriage between EIG hosting companies and SiteLock where security is being compromised without the website owners control. Wonderful!
Is GoDaddy the Only Solution?
One of the companies you can be assured of will not be bought out is GoDaddy. They are simply too big for EIG to consider in their purchases. GoDaddy does not fit the mold of the typical website hosting company or domain name registrar that EIG would be interested in.
But, one problem with GoDaddy exists too. You never really know what you're going to be charged until your annual renewal date comes up. They offer so many specials and incentives to lure you into their domain names and hosting that you think you're getting the best available deal this week on the web. Then, your annual renewal date comes up and they hope you don't notice the substantial increase in fee that has just hit your auto-payment through your credit card.
A lot of upset people have moved their domain names and hosting to BestDomainPlace.com solely because they know what they're going to be charged next year and for years to come. Pricing then will be the same as what they pay for pricing today as their initial payment.
Why Best Domain Place is Still the Best Place to Go for Website Hosting as Well as Registrations for Domain Names
You will see on the EIG list that several domain name registrars have been bought by the growing monopoly. In a way, EIG having control over your domain names is even scarier to me than their hosting your website!
Best Domain Place was originally founded as a way to assure customers would have "control" over their domain names and websites. It seemed like every new client we took on at the time for website redesign or web marketing was having to fight with their web designer or marketing agency to change DNS settings or transfer domains to another registrar.
Best Domain Place is one of the top resellers of domain name registrations and website hosting and uses the same system on the back-end and same support people as GoDaddy uses, but with one big difference:
What you get charged next year upon renewal is exactly what you will be charged at your initial point of purchase. No surprises.
Plus, being a reseller with a long and favorable reputation, you as a customer have us as 2nd level support staff. If something really goes wrong with your domain names or hosting, you can contact us and we can get with support and you on the phone to find out what is going on.
A Worthy Alternative to EIG
Now that you know the current state of the web hosting and domain name registrar world, you have some decisions to make. Do you do nothing and wait for something bad to happen and make a change while you're in panic mode trying to rescue your website and/or domain name?
Or, do you take steps now while nothing is going wrong so that your migration can be smooth and easy with FREE live support by phone?
Moving Your Domain Names and Website Hosting to Best Domain Place is Easy!
We sincerely believe you should transfer your domain names to BestDomainPlace.com immediately. You will know what to expect for your billing and will be free of threat from EIG and SiteLock takeovers.
Transferring your domain names is free. The system will only require that you pay for another year of your domain name to start the transaction. Support is eager to help. Just start a free account first and call the number at the top right of the screen from inside your account.
Once your domain names are transferred, talk with support about moving your websites to the hosting solution that's right for you and your business.
We always say, "Your website is your heart of everything you do online for your business. Your domain name is the brain." Be sure you have full control of both and be very careful not to save five bucks just to have to pay it back later many times over later.